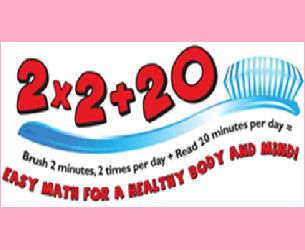 CELEBRATE THIS FEBRUARY IN HONOR OF NATIONAL CHILDREN'S DENTAL HEALTH MONTH! HELP YOUR CHILD TO PRACTICE GOOD ORAL HYGIENE HABITS TO HAVE A HEALTHY SMILE FOR LIFE 🙂
TEACH YOUR CHILD TO BRUSH THEIR TEETH TWICE DAILY FOR 2 MINUTES, HAVE THEM SAY THEIR ABC'S SLOW OR HAVE THEM LISTEN TO THEIR FAVORITE SONG IN FULL, OR GET A TOOTH BRUSH WITH A TIMER 🙂
KEY THINGS TO HELP YOUR CHILD WITH DAILY ORAL HYGIENE.
USE A SOFT TOOTHBRUSH.
USE A PEA SIZE FLUORIDE TOOTHPASTE.
BRUSH TEETH GENTLY – FRONT, BACK AND TOP IN SMALL CIRCULAR STROKES TO REMOVE PLAQUE EFFICIENTLY.
TEACH THE IMPORTANCE OF DAILY TONGUE BRUSHING TO REMOVE GERMS SITTING ON TONGUE.
ENCOURAGE YOUR CHILD TO BRUSH FOR 2 MINUTES, 2 TIMES DAILY, AND READING FOR 20 MINUTES A DAY HELPS IMPROVE THEIR GRADES AT SCHOOL AS PER THE NATIONAL EDUCATION ASSOCIATION.
MAKE SURE TO SCHEDULE YOUR CHILD'S DENTAL VISIT TWICE A YEAR FOR REGULAR CHECKUPS TO STAY CAVITY FREE AND ENCOURAGE HEALTHY SMILE BY PRACTICING GOOD ORAL HYGIENE.
CALL OUR OFFICE TODAY TO SCHEDULE YOUR CHILD'S DENTAL VISIT.
According to the National Education Association..
"Reports show that American students miss 51 million hours of school every year because of oral health problems. And students who are absent miss critical instruction time—especially in early grades where reading skills are an important focus and the building blocks of future learning. And students who have experienced recent oral health pain are four times more likely to have lower grade point averages than their counterparts who have not."
LEARN MORE BY VISITING THIS LINK BELOW.
http://www.nea.org/grants/National-Childrens-Dental-Health-Month.htm