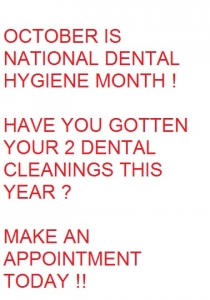 OCTOBER IS NATIONAL DENTAL HYGIENE MONTH.
Schedule your dental appointment today to improve your oral health routine and learn more on the importance of visiting your dentist / hygienist twice a year to maintain optimum dental health that contributes to overall health.
Click on the link below to learn more from this great article from the ADA.
https://www.colgate.com/en-us/oral-health/life-stages/adult-oral-care/ada-october-is-national-dental-hygiene-month