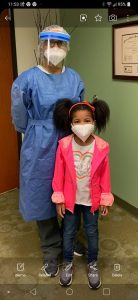 We are happy to say that we will be fully reopening our office on Wednesday, June 3
We may have developed new protocols and procedures, but one thing has remained the same…our commitment to your safety!
We will continue to follow safety guidelines put forth by the ADA, CDC and OSHA in order to make to you and your family safe and comfortable during your child's/children's upcoming dental procedures.
You will also see some changes when you reenter our office. There will be healthcare screenings, magazines and toys have been removed from the waiting room, and hand sanitizer will be readily available for your use.
Appointment times will be managed to allow for more time between so there is less waiting and allow more time for sanitizing and disinfecting.
We look forward to seeing you again and please don't hesitate to ask questions about any concerns you may have.
Dr. Shah has been helping emergency patients, like A'layna, recently and she is showing off our new PPE! We are ready and you will be receiving a call soon to set up your appointment! 😁