Doctors
Dr. Sonal Shah, B.D.S., D.D.S., Pediatric Dentist (ABPD Board Certified)
Dr. Shah has been practicing as a Pediatric Dentist for over 30 years. She received her Bachelor's Degree in Dental Surgery (B.D.S.) from the Government Dental College and Hospital in Ahmedabad, India in 1984.  After coming to the U.S. she earned a Doctor of Dental Surgery Degree (D.D.S.) from the University of Detroit Dental School in 1989 and completed her residency and specialty certification in Pediatric Dentistry at Children's Hospital of Michigan, Detroit along with all didactic study at University of Michigan, Ann Arbor in 1991.  She is a Diplomat of the American Board of Pediatric Dentistry (ABPD).
Dr. Shah is currently on staff at St. John Hospital and Medical Center in Macomb Township and Children's Hospital of Michigan, Detroit to serve our patients in need of general anesthesia for dental work.  Dr. Shah has served on The Michigan Academy of Pediatric Dentistry's public relations and examinations committees. In her free time, she enjoys traveling, gardening, reading, cooking, and educating children.
Professional Affiliations:
American Academy of Pediatric Dentistry
American Dental Association
Michigan Academy of Pediatric Dentistry
Michigan Dental Association
Macomb Dental Association
---
Dr. Anjalee Shah, D.M.D., M.S.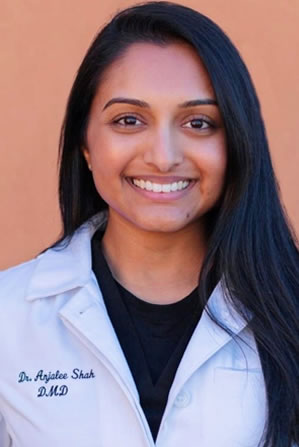 Dr. Anjalee Shah is a pediatric dentist who specializes in providing dental care to infants and children through adolescence, including those with special health care needs. She received her Doctor of Dental Medicine (D.M.D.) degree from Tufts University, Boston, MA in 2016. She then completed a General Practice Residency at Harbor-UCLA Medical Center in Los Angeles, CA in 2017.
She continued practicing in Southern California in Pediatric Dentistry/Orthodontic practices for 3 years before starting Pediatric Dentistry Residency at the University of Toledo Medical Center, Toledo, OH in 2020. During her residency, she earned her Master of Science (M.S.) degree in Biomedical Sciences / Oral Biology by completing her master's thesis on the Oral Health of Pediatric Patients Living in a Food Desert. She presented her research at the American Academy of Pediatric Dentistry Annual Session in San Diego. In June 2022, Dr. Anjalee completed her residency training and obtained her specialty certification in Pediatric Dentistry.
"I'm passionate about working with children of all ages and continuing to nurture that relationship with them throughout their childhood, adolescent, and teenage years. It is a privilege to be in a profession that allows that kind of connection with your patients and I'm grateful that I get to care for the oral health of these children. Nothing makes me happier than providing a child with a healthy, happy smile and showing them that coming to the dentist can be an easy fun experience!" – Dr. Anjalee
Dr. Anjalee believes that compassion and kindness are the most important qualities of a clinician, and she strives to implement these qualities with every patient she treats. Her priority is to provide quality dental care while focusing on each patient's individual needs.
Dr. Anjalee was born and raised in Michigan and is proud of it! She enjoys hiking, camping, gardening, traveling, watching tennis, and spending time with her friends and family.
Professional Affiliations:
American Academy of Pediatric Dentistry
American Dental Association
Michigan Academy of Pediatric Dentistry
Michigan Dental Association
Contact Us
48621 Hayes Road
Shelby Park Office
Bldg. #500
Shelby Twp., MI 48315
(586) 247-5437
Fax: (586) 580-3431
Office Hours
Mon - 8:30am - 5:00pm
Tue - 8:30am - 5:00pm
Wed - 8:30am- 5:00pm
Thu - 8:30am - 5:00pm
Fri - Selective Fridays
Sat - Selective Saturdays
Sun - Closed