Testimonials
Patients and parents of Kids Smiles Pediatric Dentistry would like to share comments about their visit. We take pride in making every visit to our office a positive experience!
05/12/2017 ~ Elizabeth H. Comments- "The people that works there are really nice to me in my family n my 2 boys like going there n my daughter is 2 so she don't like it but that's understanding she still little but I like it cuz my kids all go in at once n not at different times in day I give u five stars and thumbs up thanks for the wonderful jobs you lady's do"
05/08/2017 ~ Tabby B. Comments- My daughter loves this place. They make the dentist not scary for the kids!!!!
03/17/2017 ~ Donna B Comments- "They are amazing with children
thank you ladies"
03/14/2017 ~ Doris J Comments- I have been bringing my girls here for years and we love it. The staff is awesome especially Karen. She is always helpful and informative of my girls care and needs. My daughters refer to Karen as the sticker lady. Haha I would definitely recommend this dental office to anyone.
7/5/16
Thank you Mrs. Sciotti for this kind note.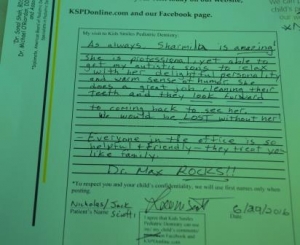 7/21/15 ~ Thank you to Ms.Earl for writing us this testimonial today 🙂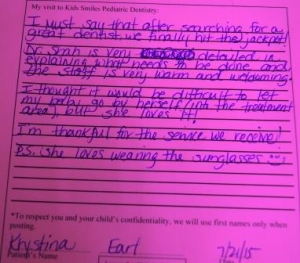 2/5/15 ~ Thank you to Mrs. Marucci for sending us this kind note :))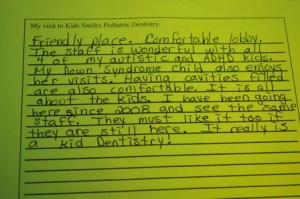 1/27/15 ~ Thank you to Adriana's mom for leaving us this note.
Visit here was amazing. Staff was very polite, happy, super sweet, Dr.Shah very gentle and made Adriana feel relaxed and comfort. Great experience, strongly recommend coming here for your child !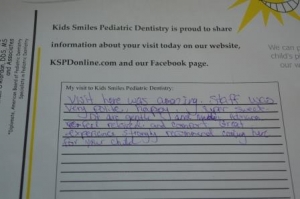 1/26/15
Thank you for this note from Mr.Kandie.
As a parent of Iva, I can say that I am very satisfied completely with all of the staff and doctors ( Dr.Shah and Dr.Max) here, It was a very good experience !!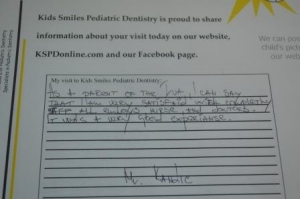 3\3\14
Thank you to Mrs.Bawol for this recent testimony she gave us 🙂
My two children have been patients at Kids Smiles since elementary school age. The office has been accommodating, with our schedule so that there would be minimal disruptive from school. Staff is friendly and makes sure parent / guardian is fully informed, of any procedure. All procedures are discussed up front including cost to parent after insurance.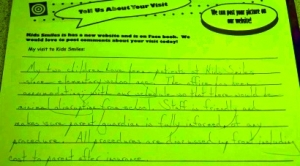 Morgan's visit: 11\26\13
Thank you Morgan's mom.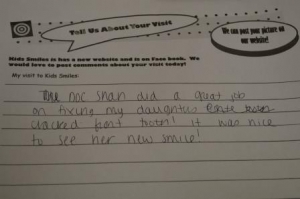 Dr.Shah did a great job on fixing my daughter's cracked front tooth ! It was nice to see her new smile !!
Morgan's mom.
Nicolas's visit: 10\3\13
Thank you to Nicolas's mom for leaving us this note 🙂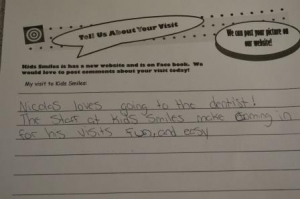 Nicolas loves going to the dentist !! The staff at Kids Smiles make coming in for his visits fun and easy.
Nicolas's mom.
Brandon's visit : 10\1\13
Thank you Brandon's mom – We greatly appreciate your time in writing us this note 🙂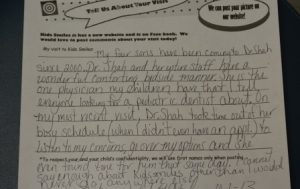 My four sons have been coming to Dr.Shah since 2000.Dr.Shah and her entire staff have a wonderful comforting bedside manner. She is the one physician my children have that I tell everyone looking for a pediatric dentist about. On my recent visit, Dr.Shah took time out of her busy schedule(when I didn't even have an appt) to listen to my concerns, go over my options and she even found time for him that same day. I cannot say enough about Kids Smiles other than I would never go anywhere else.
Brandon's mom.
Morgan's visit : 7/11/13
Morgan was extremely nervous (as well as myself) for her appointment to fix her cavity's. The staff explained in detailed how the procdure was going to happen and made sure that Morgan felt comfortable at all times. I am extremely grateful that they took their time and understood my child's need. Looking forward to future visits. Did I mention that Morgan wants to be a dentist ?!
Morgan's mom ~ Heather.
Emma's visit : 6/6/13
I am Emma's grandma, she is 10 yrs old and needed several cavities filled. She had her first filling done today by Dr.Shah. The atmosphere in the office is very happy, positive and easy going. My 6 yr old grandson also had extensive work done at 4 1/2 yrs old. He came out of the office happy with a "new" tooth.
Emma's grandma ~ Linda.
My visit to Kids Smiles : Everytime is outstanding. I can't say enough great things about the staff in the office. The "chairside manner" of the hygienist staff is top notch !! The girls have a way of relaxing the kids to almost enjoy every trip to the dentist 🙂 I have recommended and will continue to recommend this office to all of our parent friends who have young children.
Jack's mom ~ Kristin.
Mirza's Visit: 3/8/12
Dr.Shah and the Staff are very friendly. Its very fun place for kids to get their treatment done in the state of the art office. As a parent I highly recommend kids Smiles Pediatric Dentistry.
Mriza's mom ~ Nusreta.
Kids Smiles staff was so nice. They always made my daughter feel special. The staff was always friendly. I couldn't think of better dentist to take my daughter to.
Adrianna's mom ~ Erica.
Thankxx guys !! My kids like to come here so we thank xxx for taking care and my kids they had fun, thank you so much !
Annabella's mom ~ Rosanna.
Mathew's visit: 2/9/12
Had our first EVER dental appointment for my "almost" 5 yr old with special needs, Everyone at the office was FANTASTIC, patient and kind. I highly recommend Kids Smiles.
Mathew's mom ~ Jacqueline.
Contact Us
48621 Hayes Road
Shelby Park Office
Bldg. #500
Shelby Twp., MI 48315
(586) 247-5437
Fax: (586) 580-3431
Office Hours
Mon - 8:30am - 5:00pm
Tue - 8:30am - 5:00pm
Wed - 8:30am- 5:00pm
Thu - 8:30am - 5:00pm
Fri - Selective Fridays
Sat - Selective Saturdays
Sun - Closed