Restorative Care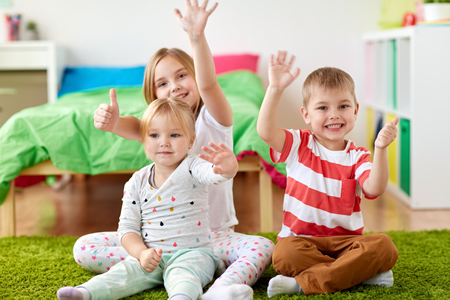 Restorative Care means fixing the existing teeth of your child, such as cavities. One of our Pediatric Dentists will evaluate your child's teeth and take the necessary x-rays to diagnosis your child's treatment needs for restorative care and will discuss with your family their findings and recommendations to best serve your child's treatment needs.
An extraction is typically needed when a tooth is infected, abscessed or damaged from trauma. In case of an early loss of a primary molar, our Pediatric Dentist will evaluate and may recommend a space maintainer following the extraction.
Stainless Steel Crown (SSC)
A stainless steel crown is also called a "silver cap" or "crown". The SSC will cover the whole tooth to protect it when little tooth structure is left after a large cavity is removed. This also used as a final restoration after any type of pulp treatment in posterior teeth.
A pulpotomy is commonly called a "baby root canal". This treatment is indicated when a large cavity goes into the nerve of the tooth. A pulpotomy involves removing the top part of the nerve that is affected and placing materials on top of the remaining healthy nerve to protect it. Generally, following the pulpotomy, a stainless steel crown will be placed to protect the remaining tooth.
A composite filling is a "Tooth color filling (white)". This type of filling material is often used for small to moderate size cavities on both the front and back teeth. A white filling is not an option for large cavities or teeth that require nerve treatments because the strength and structure of the tooth are often compromised.
An amalgam or a "silver filling" is a FDA approved one of the oldest restorative materials. Routinely we use white composite filling material. However, Amalgam can be used to treat 'Hypoplastic' posterior teeth. This is also used for posterior teeth when isolation is a primary issue. Generally this filing material can be used for cavities in the back teeth.
Silver Diamine Fluoride (SDF)
Silver Diamine Fluoride (SDF) is an antimicrobial liquid that is painted on a tooth to slow the progression of a cavity. This is a temporary noninvasive treatment option typically recommended for children who cannot yet cooperate for dental treatment. SDF may not be effective in certain circumstances and is used at the doctor's discretion on a case-by-case basis. The disadvantage of SDF treatment is that the liquid will turn the cavity black in color. It is important to keep in mind that SDF is only a temporary option and final restoration may be indicated in the future.
Contact Us
48621 Hayes Road
Shelby Park Office
Bldg. #500
Shelby Twp., MI 48315
(586) 247-5437
Fax: (586) 580-3431
Office Hours
Mon - 8:30am - 5:00pm
Tue - 8:30am - 5:00pm
Wed - 8:30am- 5:00pm
Thu - 8:30am - 5:00pm
Fri - Selective Fridays
Sat - Selective Saturdays
Sun - Closed