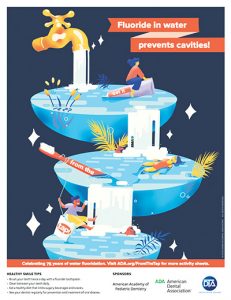 CELEBRATE THIS FEBRUARY IN HONOR OF NATIONAL CHILDREN'S DENTAL HEALTH MONTH! HELP YOUR CHILD TO PRACTICE GOOD ORAL HYGIENE HABITS TO HAVE A HEALTHY SMILE FOR LIFE 🙂
TEACH YOUR CHILD TO BRUSH THEIR TEETH TWICE DAILY FOR 2 MINUTES, HAVE THEM SAY THEIR ABC'S SLOW OR HAVE THEM LISTEN TO THEIR FAVORITE SONG IN FULL, OR GET A TOOTH BRUSH WITH A TIMER 🙂
KEY THINGS TO HELP YOUR CHILD WITH DAILY ORAL HYGIENE.
USE A SOFT TOOTHBRUSH.
USE A PEA SIZE FLUORIDE TOOTHPASTE.
BRUSH TEETH GENTLY – FRONT, BACK AND TOP IN SMALL CIRCULAR STROKES TO REMOVE PLAQUE EFFICIENTLY.
TEACH THE IMPORTANCE OF DAILY TONGUE BRUSHING TO REMOVE GERMS SITTING ON TONGUE.
ENCOURAGE YOUR CHILD TO BRUSH FOR 2 MINUTES, 2 TIMES DAILY, AND READING FOR 20 MINUTES A DAY HELPS IMPROVE THEIR GRADES AT SCHOOL AS PER THE NATIONAL EDUCATION ASSOCIATION.
GREAT LINKS BELOW FROM THE ADA TO CHECK OUT.
https://www.awarenessdays.com/awareness-days-calendar/national-childrens-dental-health-month-2020/