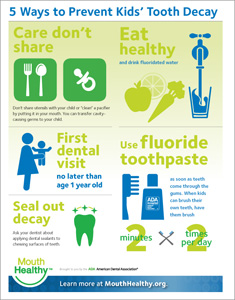 PREVENT TOOTH DECAY
1.SCHEDULE YOUR CHILD'S FIRST DENTAL VISIT by AGE 1.
2. HELP BRUSH YOUR CHILD'S TEETH TWICE DAILY.
3.DO NOT PUT YOUR CHILD TO SLEEP WITH MILK IN A BOTTLE OR SIPPY CUP.
4.DO NOT LET YOUR CHILD WALK AROUND WITH JUICE IN A SIPPY CUP.
5.ASK YOUR DENTIST ABOUT SEALANTS FOR PERMANENT MOLARS TO PREVENT DECAY.
ATTACHED IS A VERY INFORMATIVE PICTOGRAPH FROM THE ADA ( AMERICAN DENTAL ASSOCIATION )
Call our office today to schedule your child's dental visit.